What is Honing?
Honing is a metal removal process by using hard tool with super abrasives sintered stones or plated Sleeves for the correction of
Diameter of the bore

Shape of the bore

Surface finish of the bore

Positional tolerances of bores
The hone process was developed to achieve the perfection in bore geometry, size control, surface finish and surface structuring. The honing process provides the final sizing and creates the desired finish pattern on the inner bores. Finishing is accomplished by expanding abrasive stones or sleeves of suitable grit and grade against the working surface. The stones or sleeves are rotated or reciprocated or both in the part with hone abrasive under controlled pressure. A controlled Combination of rotation and reciprocation can also produce the desired cross-hatch pattern in the surface of the part being honed.
What are the Types of Honing Process?
There are 2 types of Honing process
Single Pass / Single Stroke Honing Process

Multi pass / Expansion Honing Process
Why choose Honing process?
It is one Cost effective machining method for all the below needs:
Removing stock

Creating exact Bore tolerances

Achieve the surface finish

Finishing bores of almost any material such as Cast Iron, Steel, Glass, Ceramics, and some of the Aluminium components etc.,

It Eliminates several time & Cost consuming processes such as Lapping, Bore Grinding, Jig Grinding, Hard part reaming or Boring.

The improved shape of the bore after honing almost always results in mating components operating more quietly and efficiently. Honing can correct errors caused by previous machining processes because it does not require chucking or alignment and is indifferent to bore length.

Other machining processes, such as grinding and boring, might fracture the metal's subsurface to a depth of 0.002 inch. In addition, tool wear can cause hardening of the bore surface during machining. Honing is a gentler process, generating very little heat so as not to distort the bore.
What are the Types of Bore forms which can be corrected through Honing process?
Bore Formation Types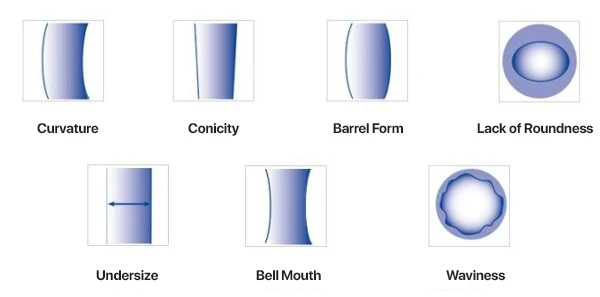 What are the applications commonly do honing process?
Engine cylinders and cylinder sleeves require honing for proper piston ring sealing. Diesel engine fuel system components are often honed because honing enables tighter control of the clearance between the bore and its mating part. The resulting higher fuel system pressure means more fuel is atomized and less unspent fuel is used, resulting in improved fuel efficiency and engine performance as well as lower carbon emissions.
Cartridge valves, used in hydraulic applications such as heavy equipment, agricultural machinery, and aerospace flight and landing gear control systems, are typically honed. This provides tight clearances between the valve body and spool to reduce the sealing area required. Honing also creates the proper surface finish for the oil seals, which, combined with reduced clearances, prevents oil leaks.
Honing also improves the bore diameter size and surface finish of gun barrels prior to the rifling operation. This ensures uniform rifling for a better shot. The process is also useful for gears, small engines, brake drums, compressors, oil and gas flow meter tubing, and many other applications.
About the surface finishes & Cross Hatch pattern in Honing?
Surface finish, texture and appearance can be precisely controlled. The angle of the crosshatch pattern can be adjusted by varying the spindle speed and stroke speed of the honing tool. Some applications call for a steep crosshatch angle in the bore, while others require a shallow angle. The depth or roughness of the crosshatch pattern depends on the relative size of the abrasive grit in the honing stone. The larger the grit, the rougher the finish. A mirror finish with almost imperceptible surface texture can be achieved with very fine grit abrasives.
As mentioned earlier, the crosshatch pattern created during honing is beneficial for applications such as engine cylinder bores to ensure some oil is retained on the bore surface for proper piston ring lubrication and piston ring sealing. Oil will not adhere well to a smooth or glazed cylinder bore surface, leading to premature wear and possible engine failure. If desired, a second honing operation using specialized tools can follow initial honing to create a plateau finish in which the peaks are uniformly clipped at a consistent level while leaving the valleys untouched. Most engine cylinders today are honed with this plateau surface finish, which increases the bearing area of the bore surface. This means conventional piston ring "break-in" processes are not required and the microscopic peaks that are honed off before the engine is assembled do not end up in the engine oil upon start-up.
What are all considerations involved in establishing an effective, consistent honing process?
Like CNC machining, several questions must be answered when developing an optimized honing process. What is the part material, size, and shape? What is the production volume? How much material needs to be removed? What does the finished workpiece bore tolerances and surface finish requirements? Answers to those and other questions determine the proper machine, fixtures, tooling, abrasives and honing oils or coolants, as well as honing process parameters such as spindle and stroking speeds and feed rate.
The honing stone is selected based on the type of material to be honed, tolerances to be achieved and the amount of material to be removed. There are as many types of abrasive honing stones available as there are types of milling or turning cutters, differentiated by grit material, grit size and bonding agent.
How does lubrication affect honing?
Honing oils and water-based coolants provide needed lubrication, washing away cut material and bringing new abrasive grit to the surface of the stones to maintain optimum cutting action. Quality oils, saturated with surface active agents, provide the necessary lubricity to increase honing pressure and use harder abrasives at faster cutting rates. Similarly, lubricity agents combined with sulphur extreme-pressure additives prevent workpiece welding and tearing while keeping stones clean, resulting in a very consistent surface finish. Specially formulated honing fluids are also are available for use in severe applications in which problems such as galling can occur. Honing oils are available in many different formulations with various levels of viscosity.
What is Single Pass Honing Tools?

The hone tool may consist of a diamond abrasive boring bar which is constructed from an expandable soft cast iron sleeve permanently coated with natural diamond abrasive or it may be a sintered sleeve which has abrasive embedded in it. The tool is expandable. The hone tool passes through the bore once and is withdrawn.
This machine uses a floating tool holder to hold the hone tool that self-aligns with the existing bore. The tool is designed for honing open bores which have been generated by a previous machining operation. The tool can correct a bore geometry. A Pilot is mounted to a fixed bracket mounted to the front of the hone tool. The function of the Pilot is to guide the hone tool into the bore.
A Single pass honing is done with a diamond / CBN abrasive, it is a reaming type tool. This type of honing tool produces a better geometry of the bore in one pass of the tool through the honing component. Single pass honing is ideally suited for honing engine crank and cam bores. Since size is achieved in one pass, there is no crosshatch pattern in the finished part. The adjustable single pass tool expands the hone stones with a cone like standard expansion tooling. However, the stones are not expanded and retracted as like conventional honing. The stones are only expanded to achieve size.
When to Choose Single-Pass Honing machine or tools?

Single-Pass honing machines, also called Bore Finishing, is selected for a variety of applications that have special needs involving honed cavities:
Small diameter honing machine (normally within 60mm)

High-production quantities

Reduced cost per Component

Reduced down-time for tool change-over

Repeatable accuracy for dimensional tolerances such as bore size, roundness, surface finish

Only super-abrasive materials (Diamond and CBN) are used for the Single-Pass processing
Single Pass honing process is limited to the types and volumes of material that can be removed. As such, the Single Pass honing process is best suited for honing operations that produce a relatively small amount of chips, such as interrupted or short length bores. It is most successful (but not limited to) in honing cast iron, Steel and powdered metals.
Applications that feature a long length of material to be honed, small quantities and/or requiring a lot of material to be removed, are not the best suited parts for Single Pass honing. Rather, they may be best served using conventional Stroke Honing. In many cases, conventional Stroke Honing can also provide excellent dimensional geometry for these types of applications.
What is an Expansion Honing tool and it is construction?
The purpose of the hone tool is to transmit the power generated by the machine to the work piece. Honing will correct the bore for taper, size, finish, and straightness, but cannot normally correct axial alignment or location. The tool consists of a spindle nose adapter, a drive shaft, and the hone body. The hone body contains a cone attached to a push rod. See the drawing of a typical hone tool.
The push rod, inside the drive shaft, is moved up or down in the hone body by a motor or hydraulic cylinder. The actuator is in the head. As the cone moves down, it pushes the expansion plates outward, expanding the stones which is stick on the Honing Shoes. The abrasive stones are used to remove the stock material from the work piece. The garter springs are used to keep the stones in the tool and to collapse the stones when the tool is removed from the bore.
The hone tools may use super-abrasives or vitrified stones for rough honing, semi­-finish and final finish honing. Peak honing typically requires only the roughing operation. Plateau honing (putting a "plateau" on top) requires fine stones to remove the peaks. Some hone tools have both roughers and finishers in a single tool.
What is the purpose of Hone Guides?
The hone guides are part of the honing tool. They are used to protect the hone stones when entering or leaving the bore and prevent the metal of the hone tool from contacting the bore surface. The guides must be checked frequently for wear or pick up of foreign material. Honing stones are typically collapsed below the size of the guides when withdrawing to protect the stones and the hone guide bushing.
What is the purpose of Hone Guide Bushing?
The hone guide bushing is mounted to a fixed bracket on the front of the column. The function of the hone guide bushing. is to guide hone tool into the centre of the bore. The bushing is typically made from hardened steel or carbide.
What is the purpose of Adjustable Cone?
When honing blind bores, an adjustable cone may be used to expand the bottom of the stones to account for wear and to keep the bottom at size. Blind bore over travel shown above. Notice the stones cannot travel past the bottom as in through bores. This will cause uneven stone wear and a taper at the bottom of the part. The problem can be helped using an adjustable cone and dwelling at the bottom.
How to select the grit to achieve a Specific Surface finish?
Please find the below chart for the reference through which you can understand which grit will give you what surface finish.
S.NO
Abhi Diamond Grit
Abhi
CBN Grit
Surface Finish Raw
Material Stock Removal Rate-Hard & Soft-On Diameter

(All dimensions are in mm)

(Soft MATL)
(Hard MATL)
1
BB
DB
Nil
Nil
Nil
2
BC
DC
Nil
Nil
Nil
3
BD
DD
Nil
Nil
Nil
4
BE
DE
Nil
Nil
Nil
5
BF
DF
Nil
Nil
Nil
6
BG
DG
Nil
Nil
Nil
7
BZ
DZ
Nil
Nil
0.020 to 0.025
8
BY
DY
Nil
Nil
0.020 to 0.025
9
BH
DH
Nil
Nil
10
BX
DX
2.29-3.56
0.51-1.52
0.020 to 0.025
11
BI
DI
Nil
Nil
12
BW
DW
1.14-2.41
0.25-0.64
0.020 to 0.025
13
BV
DV
Nil
Nil
14
BU
DU
1.14-2.41
0.25-0.64
0.012 to 0.015
15
BT
DT
Nil
Nil
0.012 to 0.015
16
BS
DS
Nil
Nil
0.02
17
BR
DR
0.71-1.07
0.20-0.41
0.010 to 0.012
18
BQ
DQ
Nil
Nil
19
BP
DP
Nil
Nil
0.008 to 0.010
20
BO
DO
0.51-0.89
0.13-0.36
21
BN
DN
Nil
Nil
Nil
22
BM
DM
Nil
Nil
Nil
23
BL
DL
0.25-0.58
0.08-0.25
Ultra fine grade
24
BK
DK
0.20-0.46
0.05-0.23
0.005 to 0.008
25
BJ
DJ
0.15-0.33
0.03-0.18
0.0006 TO 0.001
Above is applicable for below mentioned material only
Ceramic, Copper, Brass, Bronze, Cast Iron, Fibre, Glass & Hard Plastics
Why you need to buy Abhi Honing Machines & Honing Tools?
Abhi is associated in this surface finish industry from 1996 with a passion to make a significant difference.

All these years, ABHI has successfully made a niche space for itself in the surface finishing industry by excelling in solving customer's problems.

A state of Art Infrastructure which is well equipped and modernised machineries to achieve the consistency in honing machine manufacturing.

As a honing tool manufacturer, with more than two decades of versatile experience in making of honing tools, which led us to be one of the global leaders in honing tools manufacturer.

We respect & implement quality at every level in Design, Manufacture, and supply of Honing Machines & Honing Tools also we are supported by highly experienced engineers and technicians

An ISO 9001:2015 certified company for Design, Manufacture, and supply of Honing Machines & Honing Tools we have established the process & procedures effectively as per the standards.

A Complete cost effective Solution for Honing Machine, Honing Tools, Special Honing Fixtures, and Floating tool holders which are manufactured under one roof.
Ask Us Anything
Tell us how can we assist you?
We are always happy to answer any questions!
Just fill in the form and we will get back to you.