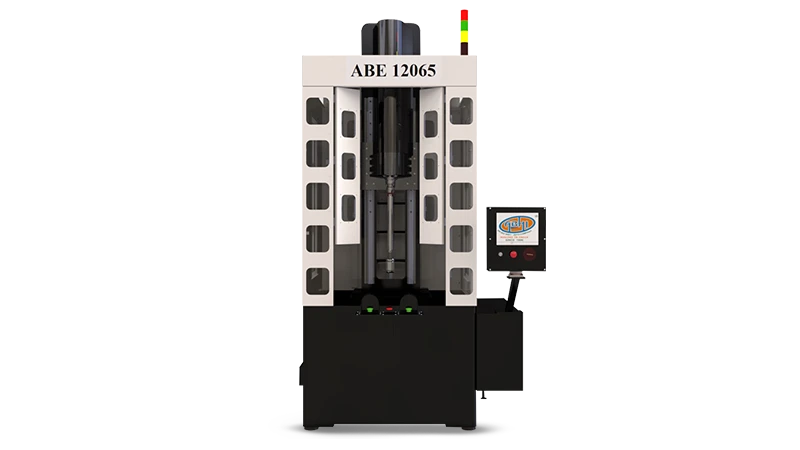 Single Spindle Vertical Expansion Honing machine – ABE12065
Vertical Expansion Honing Machine for Sale - Get Latest Price of Power Stroked Expansion Vertical Honing Machine along with Honing Tools, Honing Fixtures and all spares under one roof. Honing Machine designed to eliminate all the manual controls which are considered to be a trend setter in Honing Industry. Honing Machine designed to eliminate all the manual controls which are considered to be a trend setter in Honing Industry. Abhi with its over all expertise for more than 24 years has made a revolutionary product of ABE12065 Model Honing Machine.
This Honing Machine is designed and Engineered to enhance the operator productivity. These type of Vertical Honing Machines are suited for quick changeover for medium to High Volume of Production without any manual controls which is the latest technology.
Read More
Technical Specifications
| | |
| --- | --- |
| Diameter Range | Dia 20 to Dia 65 mm |
| Maximum Workpiece Dimensions | 300mm Length |
| Carriage Travel | 800 mm |
| Stroker Speed | Upto 3000mm/min |
| Spindle Motor Torque | 15 Nm |
| Spindle Speed | 50 – 750 RPM |
| Column Torque Motor | 15 Nm |
| Spindle Drive | Belt Drive |
| Z Axis Slide | Servo Controlled Feed Centralized Auto Lubrication System |
| Machine Controller | PLC with Latest Upgraded Software |
| Coolant Sump Pump | Separate Coolant Filtration System |
| Floor Space | 2000X2000X3000 (LXBXH) (Including Coolant Filtration System) |
| Pneumatic Requirements | Optional |
| Electrical Requirements | 415V, 50Hz, 3 Phase |
Note:
a. Diameter range, length range and workpiece weight & Dimensions are contingent on workpiece application.
b. No of Spindles & Stations are contingent based on the stock removal and out parameters of Honing.
Customize Abhi's Vertical Expansion Honing Machine
In order to meet your exact requirements, Abhi's high-precision honing machines with very high accuracies can be supplied anywhere in the world. The products are reliable, durable and flexible Honing systems designed to deliver the production quality and precision to our customers.
Abhi's commitment to service and quality assurance. Is in such a way that our technical team will work with you in determining the number of Spindles, type of tooling, fixtures, abrasives, in-process and/or post-process gaging and method of loading and unloading the workpiece (including Robotics) if customer require.
After which a written proposal will be sent to you. When your system is built, we'll set up a live run-off/prove out at our facility. Once all specifications are met, we'll commission your system and train our customer.
Tell us how can we assist you?
We are always happy to answer any questions!
Just fill in the form and we will get back to you.